The
Top 10
Christmas jumpers of 2023
Looking for some Christmas Jumper inspiration? We've got you covered.
Don't forget it's Save The Children's Christmas Jumper Day on Friday the 7th December – to take part, all you have to do is put on your best Christmas Jumper and donate £2 (https://www.savethechildren.org.uk/christmas-jumper-day)! !

'So-ho-ho-ber'
Our first jumper had to be sober related! This jumper is brought to you by "Sober Socials" Michael (@happywithoutthehooch). Anyone sober or clean will appreciate this unique design which celebrates sober living at a time which can be difficult for non-drinkers!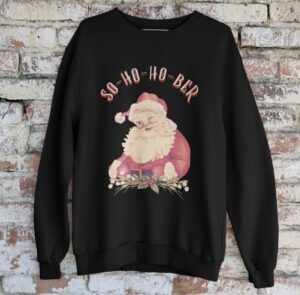 How about a 3D Christmas jumper?
Even though no one in your family talks about where this tradition came from (and will deny it if anyone brings it up), you can still honor it by wearing this silly Reindeer Head Ugly Christmas Sweater!
This cozy garment doesn't just stop at knitted designs; it features a plush reindeer trophy and wreath mounted against a brick pattern.
If anyone asks you where you got such a cheerful reindeer head decoration, just tell them it's a family tradition. And if they still don't take the hint, tell them "the reindeer asked too many questions."